Turton Bond – Business Update
As a small and developing business, we are thankful to have been able to weather the recent turbulent world events, whilst also growing both our team and client base. This is testament to the collaborative and enthusiastic culture the staff have cultivated here at Turton Bond.
We truly do have an open door policy and try to operate the business like a 'studio' of professionals, whereby everybody has a voice and their opinions and suggestions are heard. Furthermore, it's testament to the trust our Clients have placed in us as a business that has facilitated this continued growth. More recently, it's been a pleasure to have welcomed Rebecca Jones into the business as our New York Office Director; not only does Rebecca bring with her a wealth of experience, but her vision for where and how we continue to grow is truly exciting, and bodes well for the future of Turton Bond.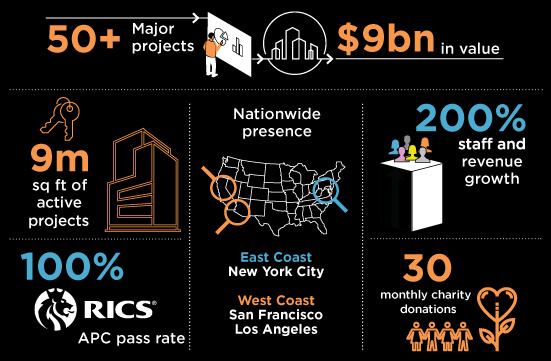 With regards to our ever-growing workload and client base, we could not be happier. Turton Bond were fortunate enough to be selected as the winning bidder on a National Cost Management proposal for one of the world's leading technology companies. This role comprises a holistic review of their national corporate real estate portfolio, as well as identifying opportunities for improvement with regards to cost management processes and procedures.
Beyond this exciting engagement, we've also been entrusted by a prominent global development firm with the financial management of a 58 storey, 1.9M SF new build development at the prestigious Hudson Yards Development in New York City, as well as many other notable projects across various sectors in retail, residential, technology and hospitality.
As Turton Bond continues to grow and identify new and exciting key markets to enter, our fundamental vision of providing Clients with best in class Cost Management services that applies traditional values with a modern approach is never far from our thoughts. Key to our continued success is that of our staff; all of whom are dedicated and talented individuals who have a combination of experience and enthusiasm; as we continue to grow it is imperative that we continue to bring like-minded individuals who understand our collaborative culture.