Turton Bond
Internship Program
We're delighted to continue our successful partnership with multiple Universities in the UK, and provide ambitious students with experience and exposure to the US construction market.
Turton Bond Internship Program
Turton Bond are excited to announce the reinstatement of our internship / placement program. This program involves Turton Bond sponsoring a Quantity Surveying student, typically from an RICS accredited overseas institution to come in and experience the day to day activities of a Cost Manager within the US.
Understandably, due to the recent world events, transferring international students to the US was an insurmountable challenge, but with the world, its borders and international embassies beginning to re-open, it's great to have our program reinstated.
Our program is specifically designed to align with Turton Bond's cultural values of empowering staff, regardless of experience and title, to have as much exposure to projects and clients as possible, whilst maintaining the structured training and instilling the traditional values of the profession with guidance and oversight.
Our most recent placement student is Alexia Bohin (Lexi), who joins the New York office from Liverpool John Moores University; the same University that the Director of New York, Rebecca Jones also attended. To date, Lexi has had exposure to measurement tasks for several blue chip clients, sat in on meetings with some of the largest tech firms in the world, and continues to learn about both the similarities and differences between Quantity Surveying and Cost Management between the US and UK markets.
Some notes from Alexia Bohin on her experience to date…
I was instantly fascinated by Turton Bond's modern approach to practices and methods within our industry. For instance, we work in an open plan group of professionals, allowing better communication, support and confidence in the workplace.
Additionally, there is a clear embrace for software and technology, from the way in which we share files internally through to our financial reporting tools and systems.
Although a relatively young business, TB have an impressive clientele portfolio and work on such a wide array of projects.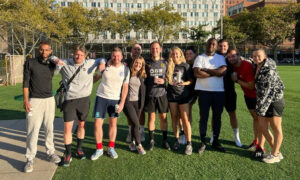 Being a female in the construction industry, I appreciated the company's values and high targets in diversity. Additionally, TB collectively has years of successful experience throughout a variety of sectors, which inspires me to learn more.
I'm particularly interested to learn how the traditional UK QS practices differ to those in the US, and excited to be involved in the wide spectrum of projects and Clients we cater for. This placement program is such a great opportunity for me to kickstart my career as well as providing invaluable first hand experience and knowledge to help me complete my degree next year.
Applications are now open for our 2023 Summer Intake. Please send resumes and a short paragraph of interest to [email protected]