Celebrating the
Women of Turton
Bond
In recognition of International Women's Month, the women of Turton Bond sat down and discussed the many ways they contribute to the success of the business, and the overall construction industry, as well as some of the challenges they continue to face as a woman in construction. At Turton Bond we're immensely proud of our ambitious target to have at least a 50% female workforce, and a 25% female leadership target which we continue to strive towards.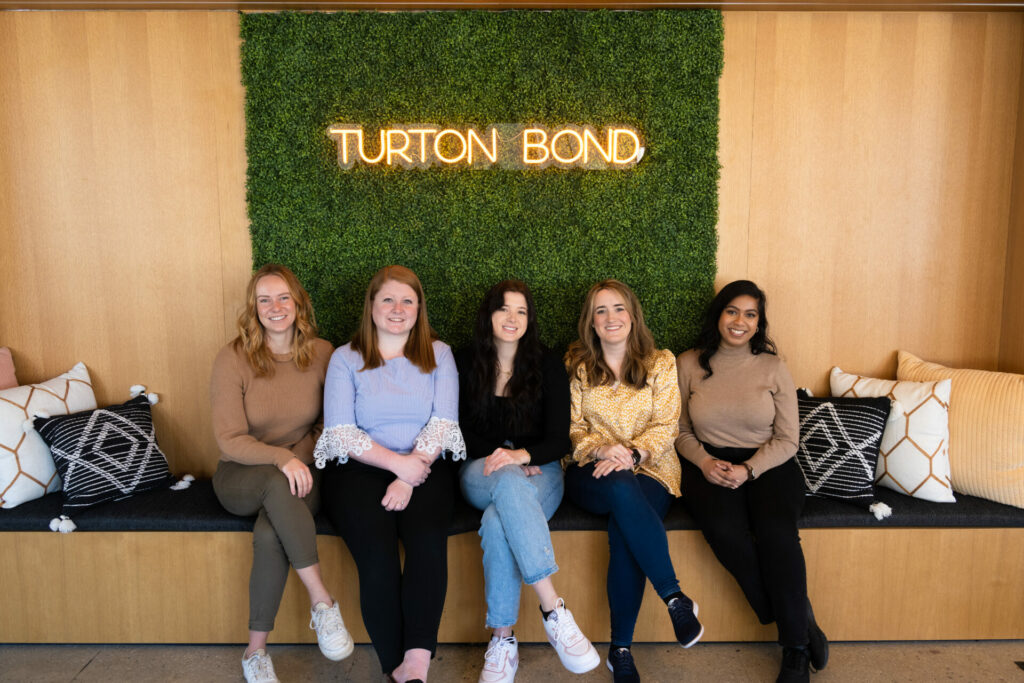 What has been the most memorable/favorite moment in your career?
Ciel:
I worked as a Field Engineer at the LAX Midfield Satellite Concourse (the new International Terminal) and as a Project Engineer at SoFi Stadium. During construction, it is often hard to imagine the buildings as a final product and being fully occupied and used. Revisiting both buildings once they were open to the public in full operational capacity has been one of the coolest experiences! Also, it was awesome to see SoFi Stadium on TV during the 2022 Super Bowl and tell friends and family I helped build that!
Sydney:
I had the opportunity to work on a construction site at a client's office within my first year working here.
I was very nervous at first because I was still fresh in the construction industry, this is my first job straight out of college, so I had no idea what to expect. On the other hand I was excited about the experience I was going to gain from this opportunity and I was looking forward to applying the knowledge I learned in the office and putting it to test on site. I am very grateful for this opportunity because it gave me more insight about the construction process and has helped me further my development in the industry and here at Turton Bond.
What are the advantages of including women in construction?
Neera:
Working in the construction industry requires an action-oriented personality. However, it is also important to remain open and receptive so that one can effectively adapt to the evolving needs of a project or client. Women tend to lean into receptivity and understanding a bit more – so in this way, it's advantageous to include women in construction because teams become more versatile and well-rounded. 
Kearra:
The advantages of including women in construction are just like anything else. Women bring a unique perspective and way of thinking and getting things accomplished to the work that we do. A surprising part about being a woman in construction is the lack of diversity that doesn't seem as though it's improving. I don't think that young girls even have a thought in their mind or inspiration that they can work in the construction industry. I'm curious on how we can change that as an industry.
What do you feel is the biggest challenge of being a woman working within construction?
Kelly:
The biggest challenge is having to show that I have the same knowledge as others in the industry. In the construction environment, women are unconsciously identified as a person of lesser knowledge since we haven't always been prominent in the industry.
Neera:
My biggest challenge as a woman was understanding the difference between aggressive and assertive communication. In the industry, these terms are often used interchangeably. But as a woman, I found it goes a long way to understand the difference.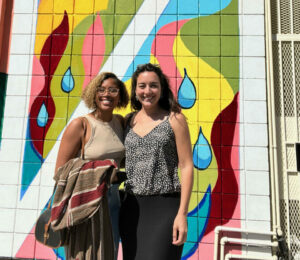 What makes you proud of working at Turton Bond?
Rebecca:
We want to be different. Our ambition to always challenge what everyone else is doing ("the norm") whether that be our progress in hitting our diversity goals, the quality of our product, leadership, client relationship development etc. We are always looking for ways to challenge ourselves and the status quo.
Sydney:
I am proud to be a part of the Turton Bond team because of how comfortable everyone made me feel right from the start.  I was taking a risk moving from another state to accept this job in a field I had very little knowledge of, besides growing up with my dad in the industry and more notably being the first woman at Turton Bond. Taking this leap of faith has been one of the best decisions I have ever made. Since joining last April we have hired 12 more people (6 of those being women), we have opened up two more offices on the west coast, and expanded our services into Project Management. Our continued growth, our aim for a more diverse work environment, and endless support have been some of the many reasons I have stayed at TB.
What current trends or changes are you seeing in the construction industry?
Louise:
The industry is moving more and more towards technology and systems (cost management systems, project management systems, etc). Since the beginning of my career, the use of collaborative tools such as smartsheet, google sheets, and cost management systems has tremendously changed and improved how I work.
I don't miss the days when we had to take turns updating a spreadsheet!
Kelly:
A big change in the construction industry is the issue of long lead times across the board. In today's environment it has become apparent more than ever to identify and mitigate the risks associated with long lead times to ensure a successful project. This has always been a crucial part of my role as a PM, but there are more areas where long lead times are an issue, which have made this skill more valuable.

What advice would you give to a woman entering the construction world?
Kearra:
The advice that I would give is to stand firm in who you are as a woman in this industry. Working in a male dominated field can be intimidating for you or for your peers but bask in knowing that you are unique and bring a unique perspective to the work that you do. 
Ciel:
 Find a great mentor and sponsor, regardless of their gender. I was lucky to find both within the first year of my career (a boss and a project manager of a subcontractor I worked closely with). Having someone with more experience and established respect in the industry backing you makes the day to day more enjoyable and easier, especially as a woman who's colleagues/peers may have an unconscious bias toward.
What can we find you doing outside the office?
Louise:
At the gymnastic club with my daughters, biking or on a beach in LA 🙂
Ciel:
I've only been in New York City for one year, so I love to explore new restaurants, bars, and outdoor spaces of the city! I also always do the daily NYT Crossword, Spelling Bee, and Wordle!