Data Center Market
Conditions Update – Q1, 2022
West Coast Lead Darren Flood provides our Q1 update on the Data Center Construction Market.
Market Outlook 2022
With an increasing demand for cloud computers, IT services, cyber security, etc. the requirement for support from Data Centers is stronger than ever. As the pandemic becomes further understood, alongside wider rollouts & adoption of vaccine programmes, construction volume and progress is beginning to increase and potentially return to a pre-pandemic climate. Clearly COVID-19 variants, changing restrictions, constrained supply chains and strong demand creates an unpredictable market, which we discuss in further detail throughout this article.
Turton Bond Outlook 2022
Turton Bond believes that the overall outlook for Data Center construction in 2022 will come with plenty of challenges and uncertainties. Inflation rates have reached levels that have not been seen since the 1980's and with many other challenges including a shortage of skilled labor, supply chain issues and hikes in material pricing at unprecedented levels. 
Inflation / Escalation Rates
The current inflation rate in the U.S is projected to be at an average of 7%. We expect this percentage to continue steadily throughout Q1 2022 and anticipate a slow decline throughout the year bottoming out at about 4% based on current market trends.

Construction Unemployment / Skilled Labor Shortages
Labor shortages were a prevalent topic throughout 2021, with unemployment rates currently between 3-4%. It is expected that labor shortages will continue throughout 2022. Some of the many driving factors behind the labor shortages are a lack of skilled workers, people over the age of 55 leaving the construction industry or deciding to take early retirement, vaccine mandates and national progression of the workforce.
Additionally, due to the rural nature of certain data center projects, this creates a need to incentivize sub-contractors to the area to complete the required work. Overall, the outlook for availability of trades is optimistic in 2022 but with a strong pipeline of construction works, a labor squeeze is likely to increase construction costs.
Material Cost Increases
According to the U.S, Bureau of Labor Statistics, 2021 saw material prices increase overall by almost 25%. The majority of material prices have continued to increase over the last three months. Throughout Q1 2022, we believe material prices will continue to increase up until at least Q3 2022 and potentially start to show signs of decreasing from Q3 onwards.
The below metrics show some of the stand out changes in pricing over the last 3 months. The majority of material prices have increased over this duration and are projected to continue to increase over the remainder of Q1.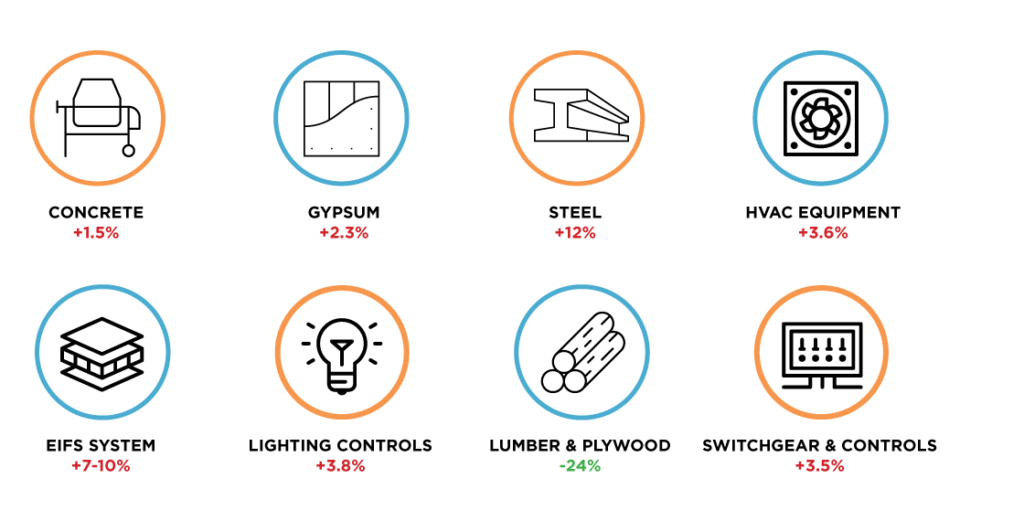 Long Lead & Supply Chain Issues 
Throughout 2021, supply chain disruptions continued to be a hot topic not only within the construction industry but across all industries. Uncertainty in the current construction climate is creating a unique challenge to projects, the data center market has been affected by pandemic-related restrictions in regard to Asia-Pacific material shortages and shipping delays. Delays are increasing pressure on schedules and driving construction costs higher. Datacenter operators with a primary focus on early procurement of key material and equipment (i.e. switchgear, UPS, chillers, generators, etc.) & building good relationships with vendors to guarantee delivery are finding success in a difficult market. Early procurements, off-site warehouse storage of key equipment & locking in prices before quarterly increases is the current recipe for successful procurement in a datacenter development. Here are some of the key materials affected by supply chain issues.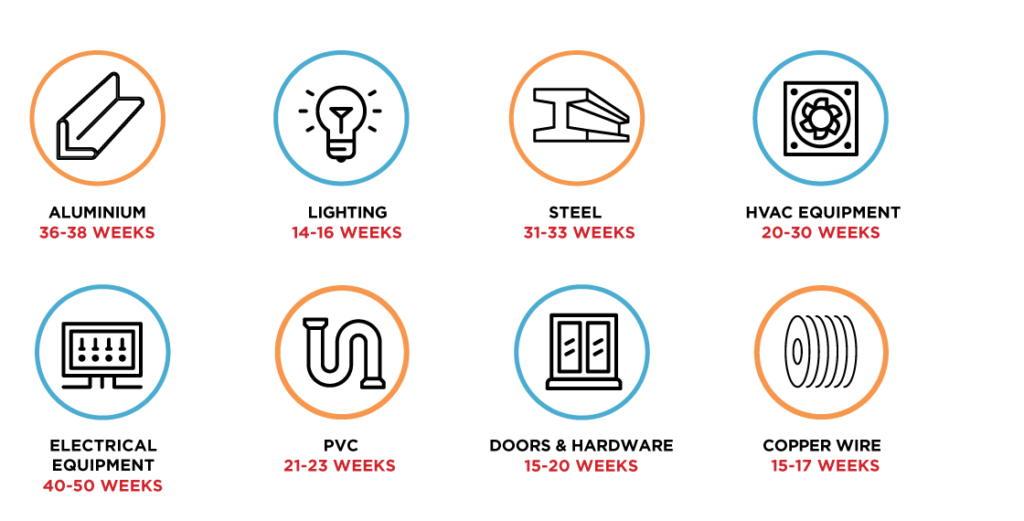 For further information on our Q1, 2022 Market Report, please reach out to our West Coast Regional Director – Darren Flood ([email protected]).